Known issues
Magic Utilities Version 3 has been beta tested for more than half a year, the drivers do not crash.
We released version 3 to the public on 14th August 2018. In general, everything works as expected. There are a few hiccups which are listed below.
Please report your issues using the Send feedback button in the application.
Your feedback helps us to fix these problems.
Critical Driver Error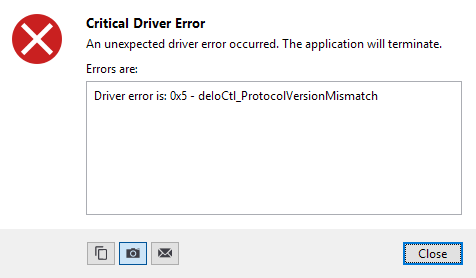 Some users reported a Critical Driver Error after the auto update to version 3.0.5.5.
The error means, that the previous driver is still loaded so the app can't talk to the device.
Try to restart your computer.
If this does not help:
Uninstall the Magic Utilities
Restart your computer
Install the the latest version of Magic Utilities again


(there is no need to downgrade to a previous version)

.
AutoHotkey not working on F-Keys
On the Magic Keyboard with Numeric Keypad, some F-Keys are not visible to
AutoHotkey
. Affect keys are F13, F14 and F15. All other F-Keys do work since
version 3.0.5.0
.
Media keys not working
The media keys F7, F8 and F9 do only work when the Magic Keyboard Utilities application is opened and is active.
It has been fixed in version 3.0.5.0.
Caps Lock key doesn't work on Bluetooth connection
The caps lock doesn't work if the keyboard is connected via Bluetooth. It works when connected with the provided USB cable. Has been fixed in version 3.0.4.2.
Driver error - Code 37 after restart
Only a few users still reporting that after every restart they get a Driver error - Code 37.
On USB connections it's enough to turn your device off and back on again.
On Bluetooth connections, removing the device from Bluetooth and pairing it again seems to fix it until the next restart. This is of course very annoying!
Even we tried hard many times, we still have never seen this error in our test environment. Unfortunately there is no known solution how to fix this for good.
No Bluetooth connection after wake up from sleep
If connected with Bluetooth, after wake up from sleep or hibernation, you usually need to click the mouse or trackpad, or press a key on the keyboard to reconnect your device. Some users reported that it doesn't work, but so fare we can't reproduce this in order to fix it. In case your devices do not reconnect:
Toggle Bluetooth
In Windows Settings, turn off Bluetooth
Wait 5 seconds
Turn Bluetooth on again.
Now click or press your device.
Or restart your computer.
This is, of course, difficult if your input devices do not work! You can connect both Magic Keyboards and the Magic Trackpad 2 with the provided USB cable with your computer.USB connections should always work.
Driver error - Code 39
Note: This issue has been fixed in version 3.0.5.0.
If the latest Windows 10 version (April 2018 Update, Redstone 4, Build 17134), has been fresh installed (not updated), our drivers will not work in some cases.
In Windows Settings > Devices you might see a Driver error.
Auto update network error on wake up
If Settings / Check for update on startup is active, a network error may show up each time the computer wakes up from sleep.
Disable the update check in the Settings menu to avoid the warning. Manual update checks can be performed in the Help menu.